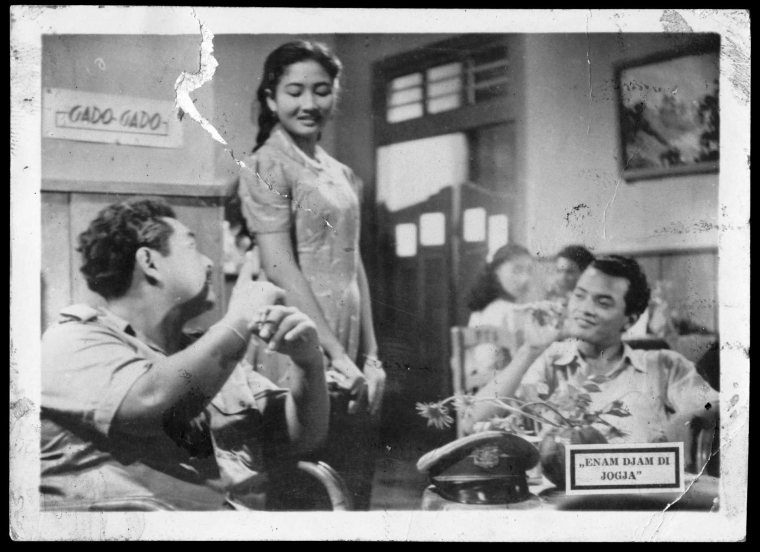 Production of heroic movies in Indonesia for the last 10 years has been varied both from its quantity and quality. Some of them depict about the prominent national heroes such as "Soekarno (1st president of Indonesia)", "Guru Bangsa (Statesman from Islamic Figure): Tjokroaminoto", "Jenderal (General) Soedirman", and there is also an animated heroic movie titled "Battle of Surabaya".
It is been quite long or exactly 67 years since the first time of heroic movie production in Indonesia.  The movie called 'Darah dan Do'a' (Indonesian for Blood and Prayer, released internationally as The Long March) was the initial heroic as well as the earliest national movie.  It was fully produced by Indonesian people and directed by the 'Indonesian Movie Pioneer', Usmar Ismail, in 1950.
A year afterward, in 1951, Usmar Ismail directed another heroic movie which was also the second national movie labeled "Enam Djam di Jogja" (Perfected Spelling: Enam Jam di Yogya, literally "Six Hours in Yogya"). This black-and-white movie portrays the victorious moment of "Serangan Umum (SU) 1 Maret 1949 di Yogyakarta (The General Offensive on 1st March 1949 in Yogyakarta)" as its background story.
"Six Hours in Djogja"  has been dubbed as the most genuine movie which shows SU accurately, so far.  Viewers are provided with the movie opening lines that states about its main purpose as the realistic illustration of firm cooperation among Indonesian citizens, soldiers, and government officers in sustaining independence since 1945.
Therefore, there is no superior character from the movie "Six Hours in Djogja" .  Indeed, this movie tends to reveal the more convincing situation from Indonesian people – in this case, societies in Yogyakarta – when the Dutch military officers ferociously tried to occupy Indonesia once more after its independence proclamation in 1945.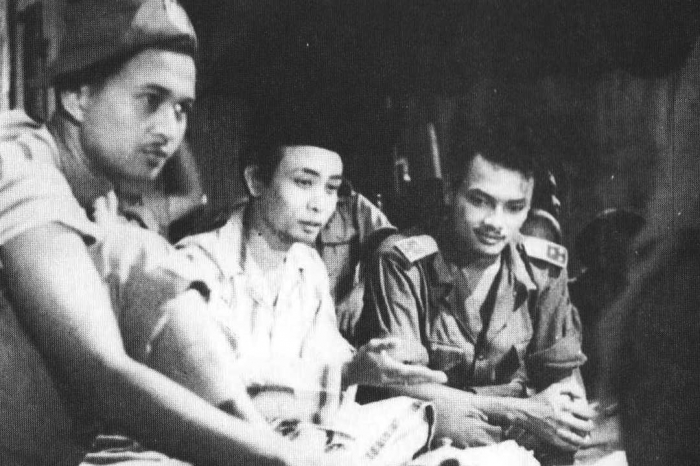 From my point of view, although it is still black-and-white film, its scenario and acting performance of the casts of "Six Hours in Djogja" are as well-qualified as modern cinemas nowadays.  It is worthy to notice, this movie had been produced just less than a decade (6 years) since Indonesia acquired its independence in 1945.
Even so, all those constraints in Indonesia as newly independent country, along with the Second Military Assault from the Dutch in 1948, did not hinder patriotic spirit of Indonesian movie makers.  Heroic struggle undoubtedly can be done in many various ways, including by means of the national movies.     
It used to be widely known, SU in 1st March 1949 in Yogyakarta – back then it was the capital city of Indonesia after some national leaders in Jakarta had been exiled by the Dutch – was regularly identified as the patronizing role of Suharto (Indonesia 2nd president).  In reality, the victorious movement of SU in 1st March 1949 was also broadly backed up by the former King of Yogyakarta, Sultan Hamengkubowono (HB) IX who was named on that movie as Mataram XII.
The Dutch also kept broadcasting through all over the world that – as if – as Indonesia was no more than a history record after Yogyakarta had been occupied during the Second Military Assault from the Dutch in 1948.  For that reason, SU in 1st March 1949 showed the world that Indonesia still existed and it always is like that for good.
The movie "Six Hours in Djogja" has a plot about some ordinary citizens who kept on surviving for their life in Yogyakarta at some point of the Dutch reinvasion.  They were Mochtar (a journalist), Hadi (a male soldier), Endang (a female soldier), and Wiwiek (Hadi's little sister).  The four of them devotedly tried their best to inspire people around them to endlessly stick to their nationalism, albeit the economic hard time.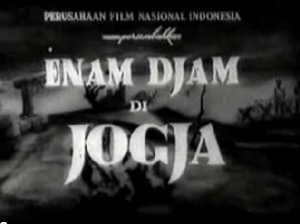 Apparently, at some stage in physical struggle, there were quite many Indonesian people who perished their patriotic spirit due to financial pressure.  The movie character named Sutedjo ('Ted' was his nickname) chose to join the Dutch military service (NICA) and even worse, persuaded other people to follow his cunning way. Ted was an antagonist (or maybe a materialistic opportunist?) who proclaimed himself as a nationalist at heart, but a realist in daily life by enlisting NICA. From Ted's point of view, more often than not, war merely benefited the leaders.  In the real life, it was commoner who had to deal with warfare harsh conditions, as well as himself.
Hadi's family was inevitably pressured by economic hardship.  His father wanted to work over in the Dutch company so the family could live more affordable life.  Yet, that idea was strongly opposed by Hadi's mother and Wiwiek.  "What would Hadi say when he found out that his father worked for the opponent?!" the wife retorted.
And that's where the conflict began.  Endang and Wiwiek, who worked daily as restaurant waitresses while quietly led double life as secret agents for Indonesian soldier, found themselves had entangled in complicated romance through war period.
Endang, who was sterner than Wiwiek, could not hide her disgust toward Mochtar.  It was caused by the fact that Mochtar was often seen together with Ted.  Meanwhile, at that time, most of the Indonesian press officers were Republiken or Indonesian loyalists.
For Wiwiek's love story, her soft heart was torn between hope and reality.  She secretly admired Djono, her colleague at restaurant and also fellow warrior.  On the contrary, Ted relentlessly pursued her and offered her father an assured job from the Dutch circle.
The movie "Six Hours in Djogja" also gives a picture of SU 1st March 1949 tactical role in fostering people's trust to national army that had been over and over again threatened by the Dutch soldier.  Such as Ted, that enjoyed his role as the beck and hand of Dutch military troops.
So, how's the ending of all those intriguing plots? Could all the characters gain their own happy ending or vice versa? One thing for sure, the most significant point from that movie is the triumphant struggle of national army which was largely supported by Indonesian community and government in SU 1st March 1949.
As its viewer, I've got some mind-blowing fact on the most valid condition of Indonesian people through war period. In spite of their unarmed state, Indonesian women still carried their noteworthy contribution.  Other than Endang and Wiwiek, there were other female casts who wholeheartedly supported Indonesian soldiers.
For instance, Hadi's mother regularly supplied the food and shelters for the national army, although they were not Hadi's subordinates. Mochtar's mother even lost her husband who had been shot by Ted and his underlings when her house was ambushed by the Dutch before SU 1st March 1949 took place.
The movie "Six Hours in Djogja" also boldly conveys "United We Stand, Divide We Fall". Hadi, as the commander, repeatedly instructed his troops to act according to instruction from the higher rank military officer, including Suharto (also famous as 'Pak/Sir Harto') who was still ranked as Colonel Lieutenant.
Besides that, the common knowledge that the stability of economic and financial must be the first priority in every government administration in order to achieve the prosper nation is indisputable.  Many Indonesian people could not stand anymore and gave up with war atrocity then changed their heart like Ted.
Maybe the only down side of "Six Hours in Djogja" movie is its dim color and vague sounds.  Indonesian government really needs to restore that movie physical quality so it can be watched by younger generation in many years ahead.
I also found it was hard to match the casts' real names and their characters' names.  Both in the movie opening and closing title – also in Wikipedia – only list their factual names (they're R.d. Ismail, Del Juzar, Aedy Moward, Agus Muljono, dan M. Sani) without mentioning their movie roles.
For you who are into patriotic movies and also the fans of colorless cinema, "Six Hours in Djogja" is highly recommended for watching.  Click this link to watch it from Youtube or to download it furthermore.  Based on my experience, it was an impressive moment.  Happy watching! Fighting!
Note: This Bahasa version can be read by clicking this link from Kompasiana.com.  Both the Bahasa and English version are my original blog articles.